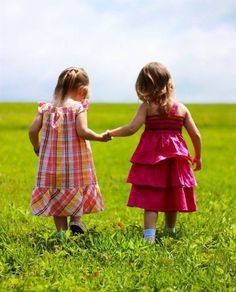 The Situation
Alicia and Michalla entered foster care as babies, just 10 and 23 months old, due to extreme neglect and abuse by their birth parents; for all intents and purposes, they had been abandoned. They arrived sharing a moldy, half empty bottle and were both sick with pneumonia. Their diapers were so dirty that they had to be soaked before they could be removed.
CASA Steps In
CASA Robin, or "Robin, not a bird" as the girls call her, met them at their second foster home. She found two little girls who had not only been abused and abandoned, but who had unaddressed medical issues, as well as developmental delays. They could not, or would not speak, so broken was their trust in adults. It was months before they even whispered to CASA Robin.
CASA Robin looked after the sisters' best interests from day one. Realizing the need for early medical and therapeutic care, Robin advocated for and monitored the girls as they received intensive speech and occupational therapy and a referral to a neuro-developmental specialist. When it was clear that they would never be safe and secure with their birth parents, CASA Robin advocated for the termination of the parental rights, and participated in helping choose an adoptive family.
Not only did CASA Robin look after the sisters' many needs, she also began their journey of healing by introducing them to books, friendship, and the joy of watching bubbles dance through the air.
The Outcome
Because of their Advocate's hard work, Alicia and Michalla are doing very well with their new adoptive family.